AN ILLUSTRATION OF FLEXIBLE SERVICED WORKPLACE SPACE DESIGN
THE ON DEMAND SERVICED WORPLACE CENTER
A recently published CBRE white paper titled "The Agile Advantage" lists important changing factors effecting serviced workplace centers. Among them are generational lifestyles, business evolution, rapidly advancing technology, and work force mobility.
The white paper also includes an illustration listing serviced workplaces beginning with open-office co-work spaces and ending with turn-key facilities. The illustration shows how workplaces differ and services offered by each type of facility.
A common element missing among serviced workplace centers is the design flexibility of their space plans. In general, plans contain a variety of workplaces including co-work spaces, enclosed workspaces, and general, specialized use, and client service areas. These elements are placed in static locations with growth limiting sizes. The result is that serviced workplace clients are required to conform to inflexible facility plans that may not fully, efficiently, or economically support their needs.
Greater agility and flexibility are necessary for improved support of serviced workplace clients' requirements. The addition of a new and flexible element called an On Demand Space (see space plan below) is the solution. The On Demand Space allows the facility to adapt to current market demands and rapidly evolving serviced workplace environments. It is intended to be utilized for the expansion, contraction, and additions to co-work areas, enclosed work spaces, service and event areas, and enterprise spaces. In addition, the On Demand Space provides continual on-going flexibility and agility necessary to support unknown future serviced workplace requirements and extends the useful life of the facility.
The block plan below illustrates how the On Demand Space is incorporated into the current mixture of a serviced workplace center space plan.
Space Allocation Example:
45% of the space is dedicated to enclosed workplaces of sizes varying from one person to team spaces (blue area)
15% is dedicated to co-working (green area)
15% is dedicated to the ON DEMAND SPACE (magenta area)
Other areas shown on the plan indicate gathering spaces, service, and special/general use areas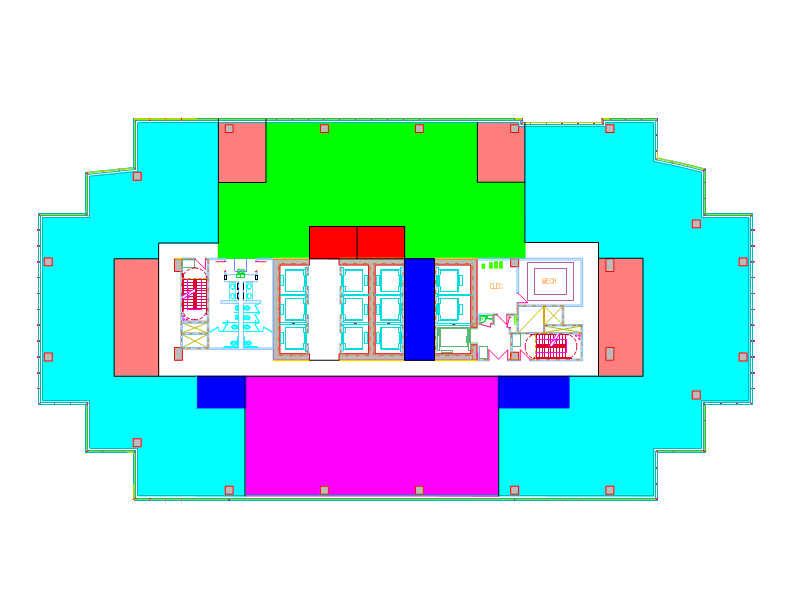 The On Demand Space's location is an important factor. It should be positioned among services, work spaces, and near the center's entrance that will allow for agile expansion and flexible alteration to new and future functions.
AoPlan welcomes comments about our illustration and concept for truly agile and flexible serviced workplace center planning and design. We can be contacted by email, directly, at info@aoplan.com.
: